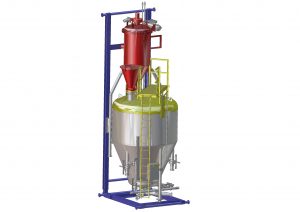 APPLICATION:
Provides dry material storage and to fill up bulk plant on on-shore & off-shore oilfield use.
Used to fill up a bulk plant.
The WBB (Weight Batch Blender) is a pressure vessel designed to blend cement, bentonite, baryte, etc. with dry additives (in sacks), etc… for oilfield use.
The fill and vent line are located on the side for easy access. A dust collector and a cutting table for small sacks are set up on the top. The pressure relief valve provides safe unloading.
The interior is designed to allow dry material to flow out under air pressure. The silo is equipped with multi-section air pad which requires minimum maintenance.
The WBB is easily transported and erected with a Silo Erector Trailer.
Manholes are located at the bottom and at the top for easy access
The heavy duty skid has a double function:
Working position
Transport position
GENERAL SPECIFICATIONS

|   | ON-SHORE | OFF-SHORE |
| --- | --- | --- |
| Norms : | DESP or ASME VIII | DESP or ASME VIII |
| Diameter : mm (Ft) | 2500 mm (8 Ft) | 2500 mm (8 Ft) |
| Design Pressure : Bar (PSI) | 4.1 Bar (61.9 PSI) | 4.3 Bar (65 PSI) |
| Working Pressure : Bar (PSI) | 2.8 Bar (42.3 PSI) | 4.3 Bar (65 PSI) |
| Working Temperature : C° | – 20 C° to 50 C° | on request |
| Test Pressure | 6.2 Bar (93.7 PSI) | on request |

STANDARD DESIGN :
As follow vessel Code to DESP or ASME VIII – Approved by DNV or BV – Heavy Duty Skid – Relief Valve – Fill Line – Discharge Line – Vent Line – Air Pads – Skid Type
OPTIONS:
Fitted in ISO structure – Electronic Load Cells – Vacuum Dust Collector
Special design and equipment on request
SPN
DESCRIPTION
PARTICLES SIZES
WBB-346
WBB with Dust Collector
346 CuFt
Electronic Load Cells for WBB