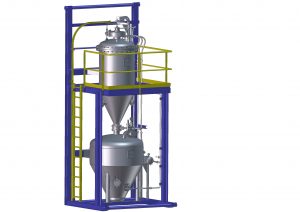 APPLICATION :
 Provides dust Filtering and Collection for on-shore & off-shore oilfield use.
 Used to set up a portable cement plant.
The vacuum dust collector is a pressure vessel designed to filter dust of cement, bentonite, baryte, connected to dusty vent line of silos, p-tanks, surge tanks, etc. used in oilfield services activities.
It can be used for setting a portable bulk plant.
Fill, discharge, air and vent lines are located on the side for easy access.
A dusty vent line nozzle is ready to be connected with silos.
The interior is designed to allow dust to fall down in collection bottle; after and of jobs or when collection bottle is full, the dust can be recovered and transfer back to silos or storage P-Tanks. The vacuum dust collector is equipped with 18 filtering cartridges which require low maintenance level. The vacuum dust collector is equipped with suction fan for helping dust transfer on long distance, a pneumatic sequential cleaning system (adjustable timing) with valves and air bottle to blowback filtering cartridges.
Manholes are located on cone and on top for easy access.
The heavy duty skid has a double function:
working position.
transport position.
It is easily transported and erected by a Silo Erector Trailer.
GENERAL SPECIFICATIONS
ON-SHORE
OFF-SHORE
Norms
DESP or ASME VIII
DESP or ASME VIII
Diameter : mm (Ft)
1200 mm (4 Ft)
1200 mm (4 Ft)
Design Pressure : Bar (PSI)
4 Bar (0 PSI)
4 Bar (0 PSI)
Working Pressure : Bar (PSI)
2.8 Bar (0 PSI)
2.8 Bar (0 PSI)
Working Temperature : C°
– 20 C° to 50 C°
on request
STANDARD DESIGN:
Pneumatic Sequential Cleaning System – Heavy Duty Skid – Filtering Cartridges – L-shape Skid Type
OPTIONS:
Electrical Sequential Cleaning System – Oilfield skid for transport – Approved by DNV or BV
Special design and equipment on request
| | | |
| --- | --- | --- |
| SPN | DESCRIPTION | CAPACITY |
| VA.DU.CO/1200 | Vacuum Dust Collector, with Sequential Cleaning System | 70 CuFt |