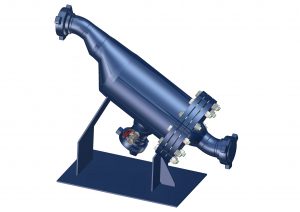 APPLICATION :
Provides dry material filtering for on-shore & off-shore Bulk Plant.
Used to set up a portable cement plant.
The rock catcher is a pressure vessel designed to filtering of cement, bentonite, barite; etc.… by removing rocks from pneumatic transfer lines used in oilfield services activities.
It can be used for setting a portable bulk plant.
The interior is designed to allow dry material to flow out under air pressure.
STANDARD DESIGN :
 Self-Standing – High Filtering Area – Easy to clean – Easy to change Filter
Fill, discharge and air lines are located on the side for easy access.
Inlet and Outlet: 4" weco union
Drain: 4" weco cap
Cleaning air line: 1" with check valve and ball valve
Pressure Test approved by DNV or BV
GENERAL SPECIFICATIONS

|   | ON-SHORE | OFF-SHORE |
| --- | --- | --- |
| Norms : | DESP or ASME VIII | DESP or ASME VIII |
| Diameter : mm (Ft) | xxx mm (xx Ft) | xxx mm (xx Ft) |
| Design Pressure : Bar (PSI) | 10 Bar (145 PSI) | 10 Bar (145 PSI) |
| Working Pressure : Bar (PSI) | 2.8 Bar (42.3 PSI) | 4.3 Bar (65 PSI) |
| Working Temperature : C° | – 20 C° to 50 C° | on request |
| Test Pressure | 6.2 Bar (93.7 PSI) | on request |
OPTIONS:
Pressure Test Certificate
Special design and equipment on request
SPN
DESCRIPTION
PARTICLES SIZES
RO. CA./6-2.8
ROCK CATCHER
6 mm
RO. CA/10-2.8
ROCK CATCHER
10 mm
Other design on request