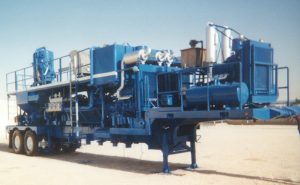 APPLICATION :
Pumps slurry, acid, additives for oilfield use
Used for all type of operations in cementing, stimulation and HP Pumping operation
The H.P. pump trailer is designed to pump cement, bentonite, barite, liquid additives, etc… for oilfield use
The operations are controlled from the panel.
A large range of H.P. pumps (250 HP up to 2500 HP) are available for your special pumping unit (Tailor made on request according to your specification).
The Standard Twin Cementing Unit can be fitted on Trailer, Skid or Truck and it is made of main components as: 2 Diesel Engines (600 HP), 2 Allison Transmission (4700 OFS), 2 HP Pumps (TWS 600), 2 Mixing Centrifugal Pumps (Mission 4"x3"x14"), 1 Recirculating Centrifugal Pump (Mission 6"x5"x14"), 1 Densitometer Coriolis, 1 Venturi Mixing Jet, 1 Surge Tank (70 CuFt), 1 Mixing Tub with agitator, 2 Displacement Tanks, Suction Manifold, Discharge HP manifold, Control Panel, Hydraulic Components, Lights, etc….
| SPN | DESCRIPTION | CAPACITY |
| --- | --- | --- |
| TW.PU.TR. / 2 x 600 | TWIN PUMP TRAILER | 2 x 600 HP |