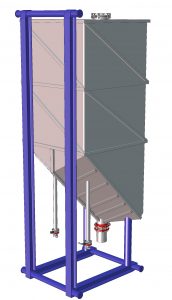 APPLICATION :
 Provides dry material storage for on-shore & off-shore oilfield use.
 Used to set up a portable cement plant.
The square atmospheric bin is an atmospheric tank designed to store and transfer sand for gravel pack operation for oilfield services activities, filling is realized by pneumatic transfer and discharge to mixer is done by gravity.
It can be used for setting a portable bulk plant.
Fill, discharge, air and vent lines are located on the side for easy access.
A vent line is available, ready to be connected with a dust collector. The airline gives better unloading by fluidization of dry raw materials thru 10" or 12" valves
The interior is designed to allow dry material to flow out without pressure. The silo is equipped with multi-section air pad which requires minimum maintenance.
Manholes are located on top and on top for easy access.
The heavy duty skid has a double function:
working position.
transport position.
It is easily transported and erected by a Silo Erector Trailer.
GENERAL SPECIFICATIONS

| | ON-SHORE | OFF-SHORE |
| --- | --- | --- |
| Norms : | DESP or ASME VIII | DESP or ASME VIII |
| Dimension : mm (Ft) | 2500 x 2500 mm | 2500 x 2500 mm |
| Design Pressure : Bar (PSI) | 0 Bar (0 PSI) | 0 Bar (0 PSI) |
| Working Temperature : C° | – 20 C° to 50 C° | on request |
| Test Pressure | N/A | N/A |
STANDARD DESIGN:
Heavy Duty Skid – Relief Valve – Vent Line – Air Line – Air Pad – L-shape Skid Type
OPTIONS:
Electronic load cells – Parallel lines manifold – Oilfield skid for transport – Double Discharge Line
Special design and equipment on request
| SPN | DESCRIPTION | CAPACITY |
| --- | --- | --- |
| SQ. AT. BI / 600 | SQUARE ATMOSPHERIC Bin | 600 CuFt |
| SQ. AT. BI / 650 | SQUARE ATMOSPHERIC Bin | 650 CuFt |
| SQ. AT. BI / 750 | SQUARE ATMOSPHERIC Bin | 750 CuFt |
| SQ. AT. BI / 850 | SQUARE ATMOSPHERIC Bin | 850 CuFt |
| SQ. AT. BI / 950 | SQUARE ATMOSPHERIC Bin | 950 CuFt |
| SQ. AT. BI / 1050 | SQUARE ATMOSPHERIC Bin | 1050 CuFt |